2020 update from the author: This post was originally written in 2018. I wrote it promoting Bulk Supplements as an affiliate. I can no longer in good conscience recommend this article as a reliable source of information regarding the quality of the products or the legitamacy of the company. I will be leaving the original article intact, so tread carefully. Depending on what supplement you are looking for, there are more reliable companies out there, like Nootropics Depot.

-Fallon
Bulk supplements is another popular vendor in the nootropics/supplement industry. With the rise and fall of Powder City, nootropics enthusiasts have scoured the internet in search of high quality products and powders. Bulk Supplements has filled the gap by providing an impressive selection of nootropics powders at prices you simply can't find anywhere else.
This company also has a great track record of customer service and taking care of their customers at every step of the transaction.
In this post we take a deep dive look into Bulk Supplements to determine if this is a loyal and trustworthy vendor.
Who is Bulk Supplements?
Bulk Supplements is a supplement company with headquarters in Henderson, Nevada. Their facilities provide over 400+ high quality supplements. Most of these supplements come in powder form rather than capsules. The main idea behind the company is right in the name itself – they provide bulk supplement powders to both the individual and other supplement companies who provide capsuled formulas to their customers.
This doesn't mean you can't buy smaller quantities however. You can purchase most of their products in smaller amounts.
Products and powders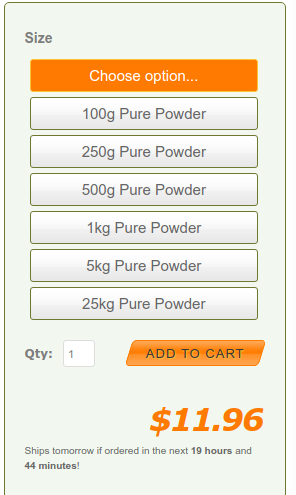 Out of all the supplement companies I've come across I haven't ran into any who stock as many powders as Bulk Supplements. Their products range from vitamins and minerals, to powerful nootropic compounds, to workout powders like Whey and Creatine. There is something for everybody on their site and I've found their prices are damn near unbeatable.
In terms of nootropics, they have a decent selection but fall short in comparison to true nootropic companies like Peak Nootropics or Nootropics Depot. They do however stock a few of my favorites.
Ashwagandha – A powerful adaptogen used in Ayurvedic medicine to promote strength and vitality. My absolute favorite nootropic for anxiety. Ashwagandha has been a recent discovery for me and I love it so much I don't think I could live without this potent herb in my life. It's allowed me to enter into once fearful situations with confidence and calmness.
ALCAR – Another potent nootropic and a strong mental energizer. ALCAR clears brain fog and also delivers a boost to physical energy levels. ALCAR is a great supplement for those looking for a 2-for-1 mental/physical bang.
Caffeine – The undercover nootropic compound everyone and their mother is using. Bulk Supplements offers raw caffeine powder. Be careful with this stuff. Caffeine is toxic in higher doses and it's easy to take too much. One does not simply scoop this stuff like sugar.
Choline Bitartrate – The cheapest source of Choline you can find. Choline is a precursor to Acetycholine – a crucial neurotransmitter heavily involved with memory and learning.
L-Theanine – Another one of my staple nootropics. L-Theanine completely crushes the negative effects of caffeine and puts your brain into an Alpha Wave state. Alpha Waves are associated with a deep sense of calmness. These waves are also seen in the brain during meditative states of consciousness.
L-Tyrosine – a highly underrated and overlooked nootropic compound found in most vitamin stores. L-Tyrosine is an amino acid and a building block for dopamine. This ties in directly to those feelings of potent motivation and the drive to get things done in life. I always have L-Tyrosine close by.
Rhodiola Rosea – Another potent adaptogen like Ashwagandha. Instead of calming you down however, Rhodiola energizes the mind and body. Rhodiola is neuroprotective and shown to reduce fatigue in individuals exposed to stressful situations.
Aside from these nootropic compounds, Bulk Supplements is also well known for supplying some of the best body building supplements in the industry. Their most popular products are their Whey, BCAA, and Creatine powders and used by notable body building personalities.
Wholesale accounts
If you're a supplement company you can apply for a Bulk Supplements wholesale account to get special pricing on supplement powders. To qualify you will need a business or resale license to get approved.
Quality control and testing


This is the one thing anybody who buys supplements online should be concerned about. If a company does not test their products I do not want anything to do with them. When you are buying bulk powders from a company you have to trust that what you are getting is legit. Can you imagine buying L-Tyrosine and getting caffeine instead? That is dangerous. And the thing about powders is they all look the same. You can't simply tell what a compound is by staring at the powder.
Bulk Supplements is operated at an FDA registered manufacturing facility and has in-house testing to ensure the highest level of quality. They also use the services of independent testing labs when required. There are over 40 people under the employment of Bulk Supplements to ensure a smooth operation. I've worked in e-commerce at the physical level. Believe me when I say it's very monotonous work and easy to ship the wrong thing if you are not paying attention. This is why it's absolutely crucial to order from companies who take shipping the right product very seriously and companies who train their employees properly.
Customer service
With many companies, especially in the supplement industry, it's next to impossible to get anybody on the phone. I must admit, many vendors simply have next to zero customer support. This makes changing an order or getting a question answered a complete pain in the ass. This lack of communication and customer service sends a direct signal to the consumer from the vendor – "we don't care about you at all!"
Bulk Supplements provides multiple avenues for you to get in touch with them. The e-commerce site itself also has a live chat function you can use to get a question answered quickly. I tested this feature of their website and I was rapidly connected to a customer service rep who was knowledgeable and knew all the answers to the questions I had.
Shipping and returns
Shipping is fast especially if you're in the US. Orders over $49 dollars qualify for free shipping. Unopened products can be returned within 30 days for a full refund.
Other reviews
Bulk Supplements has garnered thousands of reviews across multiple platforms and sites. Their products and powders are well received and customers are satisfied. Here's a Google review I found online showcasing what others are saying about Bulk Supplements.


Conclusion
Bulk Supplements is a solid company with a long track record of providing high quality supplements with stellar customer service. Their prices are extremely competitive and they carry some of the most popular products in the supplement industry. Bulk Supplements gets the Gonootropics golden seal of approval.
Join up for exclusive giveaways!
Enter your email address to qualify for my monthly nootropic giveaways