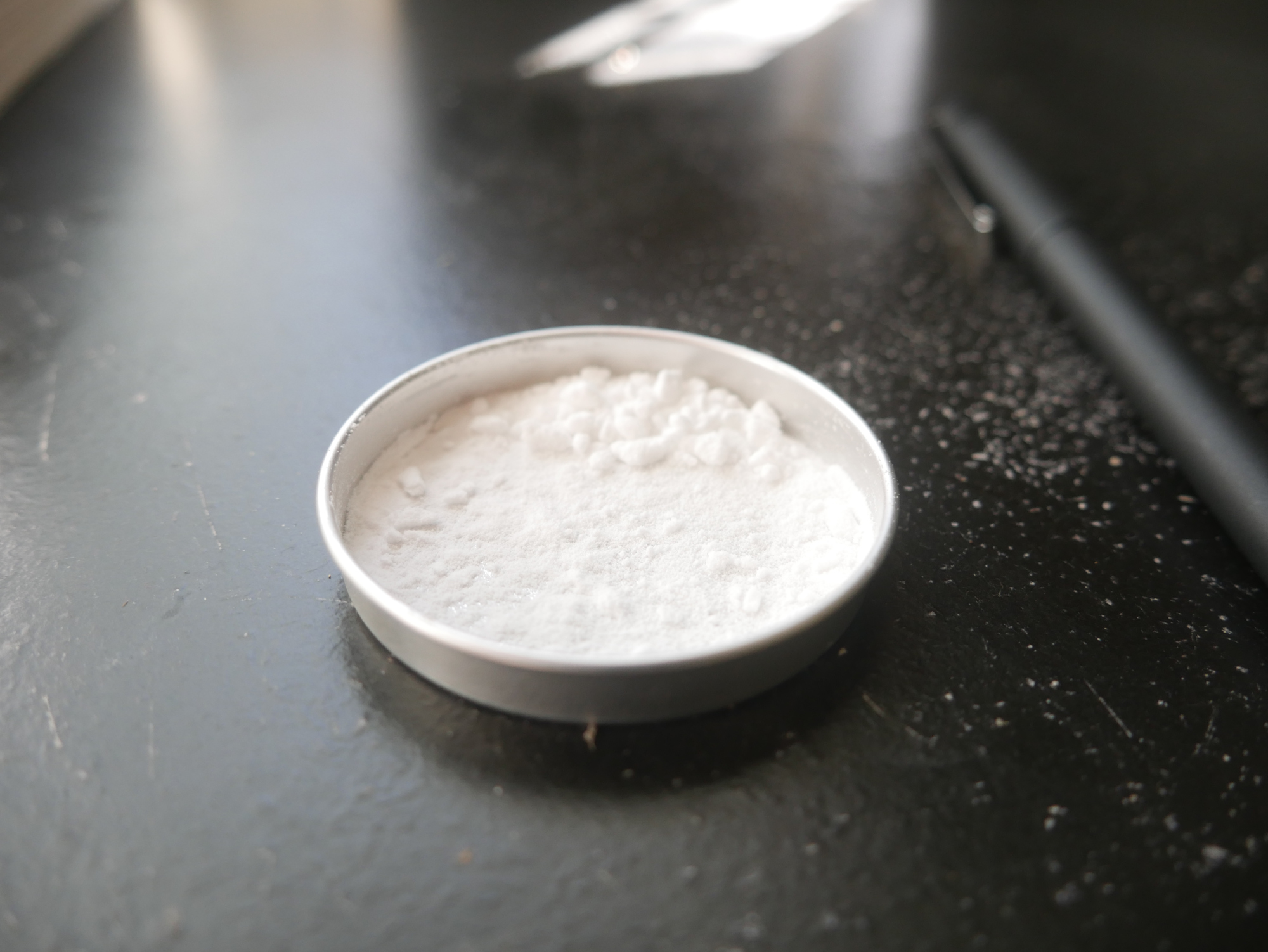 This is a companion post to my Tianeptine Sodium first impressions video I uploaded yesterday. Overall I had great results but probably overdosed, and by that I mean I took way too much. 
Yesterday morning I woke up and immediately cracked open my stash of Tianeptine Sodium from
MondialK
. (A few of you recommended this vendor so I pulled the trigger and placed an order.) Looking in the tiny aluminum canister I noted there wasn't that much powder at all. I knew right away this was going to be difficult to measure with my crappy scale. 
My current digital scale I purchased from Amazon. It supposedly measures down to 0.01 (10 milligrams) but that doesn't mean it's accurate at this weight. These cheap scales have a hard time weighing small amounts of powder. An average dose of Tianeptine Sodium ranges from 12.5 - 30mg. I decided to split the difference and take 20mg to start. 
To accurately weigh the dose I employed I technique I read about a long time ago. With the cheap digital scales, they are more accurate if they already have a little bit of weight on them. I took the lid off my Oxiracetam bottle and placed it on the scale. I then pulled apart a capsule of ZMA, dumped the original contents, and then weighed the empty capsule. I took note of the total weight and then began scooping the tiniest amounts of powder into the capsule, placing it back on the scale, and repeating this process until I reached the desired weight of 20mg.
The thing is, the numbers on the digital read-out were fluctuating. I know for a fact I did not receive an accurate measurement. I'm guessing I took too much because this stuff knocked me out. (or it's entirely possible it effects me strongly even at common doses.)
Initial effects kicked in around 20 - 30 minutes and by 45 minutes I could already feel the euphoria inhabit my entire body. I wanted to do nothing but lay in bed. I had no desire to do any kind of work. All I could do was lay there and enjoy the warm blanket of the Tianeptine Sodium. I thought how similar it was to prescription Opioid compounds like Percocet. 
I concluded Tianeptine Sodium was much stronger than the Sulfate version, but shorter lasting and more recreational. I could see how one could get addicted to the Sodium, it's truly powerful. For functionality Tianeptine Sulfate is a much better alternative. It lasts all day and I'd say the anti-depressive response is more pronounced with less recreational benefits. I was pretty useless for a good couple hours. 
Tianeptine Sodium is no doubt a great compound for individuals dealing with pain and depression. I would be sure to cycle it, perhaps with something like Kratom. 
For a more deep dive introduction to Tianeptine check out
my original Tianeptine video
. 
Tianeptine Sodium First Encounters Video