In this post I'm going to discuss my experiences with
MondialK
. MondialK is an overseas vendor and they stock a few Nootropics you can't get domestic in the United States. Of most interest, these are Nootropics like Tianeptine Sodium, Tianeptine Sulfate, and Bromantane. My experience with the vendor involves these 3 Nootropics.
Having tested all of these Nootropics I can conclude every one of them is high quality. In particular, the Tianeptine Sodium was most impressive.
From what I have deduced, all product comes from France. The postal package has French written all over it and the package took roughly 2 weeks to arrive at my United States address. 
Ordering from the vendor initially felt like a bit of gamble. Throughout the entire process nothing gives you confidence that your order will even arrive at all. 
First, you cannot pay with any major credit card (at least in the direct sense), or even Bitcoin for that matter.
EDIT: You can pay with Bitcoin as a subscriber pointed out. You can check the MondialK FAQ page to see a list of payment options.
I made my payment through a sort of wire transfer. Upon adding items to the cart and checking out, I received the following payment instructions via email:
Quote:

Bank Transfer Instructions





IBAN : FR7616798000010000077614768




BIC TRZOFR21XXX




Name : Titans




Surname : Corp + Order ID





Bank Name : Treezor SAS




Town : Levallois-Perret





Sending Reason : Business/Purchase




Phone number : Use yours or a fake phone number





Thanks not to include any reference to 

MondialK

, don't include any product name, don't use our email address neither during the transfer





Bank address :




94 rue de Villiers




92300 Levallois-Perret




France
To make payment you use the above information and plug it in to a website called World Remit. World Remit allows you to use your credit card to make payments to certain bank accounts. I had doubts but continued to forge ahead, plugging in all the necessary info.
Once I had made the payment I emailed MondialK letting them know I made payment. They acknowledged my payment and then sent the following email:
Quote:Dear Fallon,



Thank you for your order and confidence,




I let you know I label it as below to speed up the customs process





Tianeptine Sulfate      Mandelic Acid   1




Tianeptine Sodium       Hyaluronic Acid 1




Bromantane      Hyaluronic Acid 0,5





Otherwise you will receive it 2 weeks late if customs test it





I remain at your disposal should you have any questions,




I wish you an excellent end day.





Best Regards,




MondialK

.com
It's important to pay attention to this part. What he does is label the products as inconspicuous ingredients so they go through customs easier. Make sure to properly label them when they arrive so you don't get mixed up. If you order multiple items it would be very difficult to identify the powders without the labels. 
The products arrived in 2 weeks. There is no tracking on the packages so you're pretty much waiting in the dark for things to arrive. They come in these tiny aluminum canisters. As you can see, they are labeled as per the email: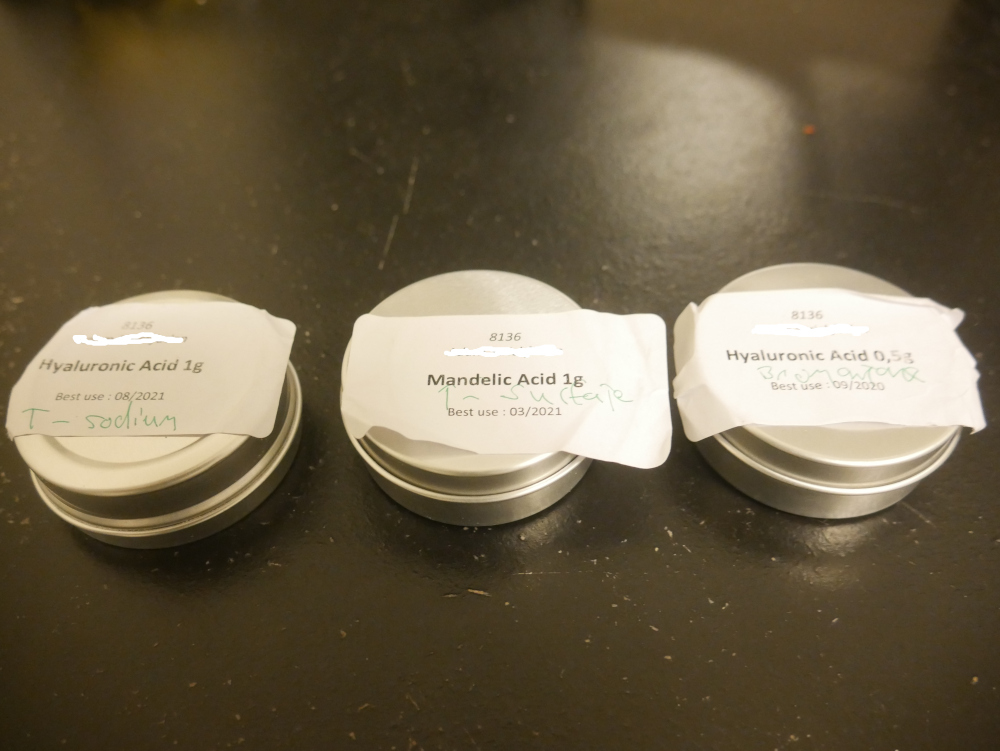 Overall I have nothing but good things to say about this vendor. He answered all my emails, the products came, they were of appropriate weight, and high quality - as far as I can tell. 
If you can look passed the strange ordering process I can recommend this vendor for the stuff you can't get through mainstream suppliers.
Video