Over the past 3 months I've been consuming Kratom at night. This little 3 Gram a night habit has stirred up much research to find high quality vendors I can rely on for my supply. My results with most vendors have been mixed. Kraken Kratom was a huge letdown in terms of quality, and other vendors had good batches one month and then terrible batches the next. With some vendors, shipping took forever and I received no tracking number or any indication that my product had shipped. Happy Hippo Herbals was one of the last vendors I tried in my pursuit of consistency and quality. In fact, a subscriber had pointed me in their direction with some positive words. This person told me their prices were high but the quality was very good. If you browse Reddit you'll find no shortage of people saying pretty much the same thing. What the hell, I pulled the trigger and placed an order.
First Impressions
I'm always suspect of sites that look too polished. If a brand puts lot's of effort into their marketing and branding that must mean the actual product is inferior, right? That was my thought process browsing around their site and soaking in all their products and packaging art. Perhaps I was still jaded from my Kraken Kratom experience. Kraken Kratom…Happy Hippo…are you seeing the pattern here? Never the less I was impressed with their selection but only time would tell if the quality held up. I added a few different strains to the cart.
Happy Hippo categorizes their Kratom as Fast, Slow, or Moderate, and allows you to search for strains in these categories. Slow strains are more sedative – typically Red Maeng Da. Fast and moderate strains are white and green vein Kratom. White and Green vein strains are usually more energizing and best taken during the day. Reds are sedative and geared for a more relaxed end of the day experience.
In particular I ordered an ounce of both their Red Hot Hippo and Magic Hippo strains.
Magic Hippo and Red Hot Hippo
I have long suspected many vendors have only a few batches of Kratom and use that Kratom to make 10 – 20 "different" products. In some cases, different strains I purchased from vendors would be indistinguishable. There was no difference in the color or consistency across batches. I would even receive red and green vein batches that looked exactly the same. Because of the Red Veins in the leaf, red vein strains will appear anywhere from red to dark brown. Green vein strains are notably lighter in color and the powder will be greener. There is a notable difference in color. Upon comparing the Magic Hippo and the Red Hot Hippo, I was happy to see they did indeed look like 2 different batches – the colors were different shades.
The Red Hot Hippo was very good but the Magic Hippo blew me away. It was easily the most sedative and euphoric strain I've tried to date. I could tell straight away it was miles above anything you could pick up at your local head shop and it was certainly the best Kratom I've tested from any online vendor. I was impressed and began discussing my experiences on the YouTube channel.
HH Contacts Me
Someone at Happy Hippo picked up on either my blog or YouTube channel and sent me an entire care package chock full of product – officially solidifying my position as a powerful influencer with enormous gravitational force (that's sarcasm btw, I hate how I have to point that out but these are the times we live in.)
Not only did they send me numerous batches of Kratom, but also sent samples of their Kratom extracts, Kratom energy shots, a sample of their Kava Kava, and a handwritten note.
In full disclosure, I will make a commission if you purchase through my affiliate link or use my discount code (see code below.) It should be noted however that I was won over by their products long before they reached out to work with me as an affiliate. I personally payed out of my own pocket for my initial Happy Hippo batch, and was extremely impressed. The fact that they contacted me to work with them as an affiliate and sent me all this cool stuff is just an added bonus. I have companies contacting my almost every single day to review their products and I turn down most of them. I don't recommend products I can't 100% stand behind. And trust me, I'd make a lot of money if I pedaled even half the stuff that comes through my inbox. I even turned down Qualia despite their lucrative commissions. I don't believe in the product and would never recommend them to my subscribers.
Happy Hippo Herbals Energy Shots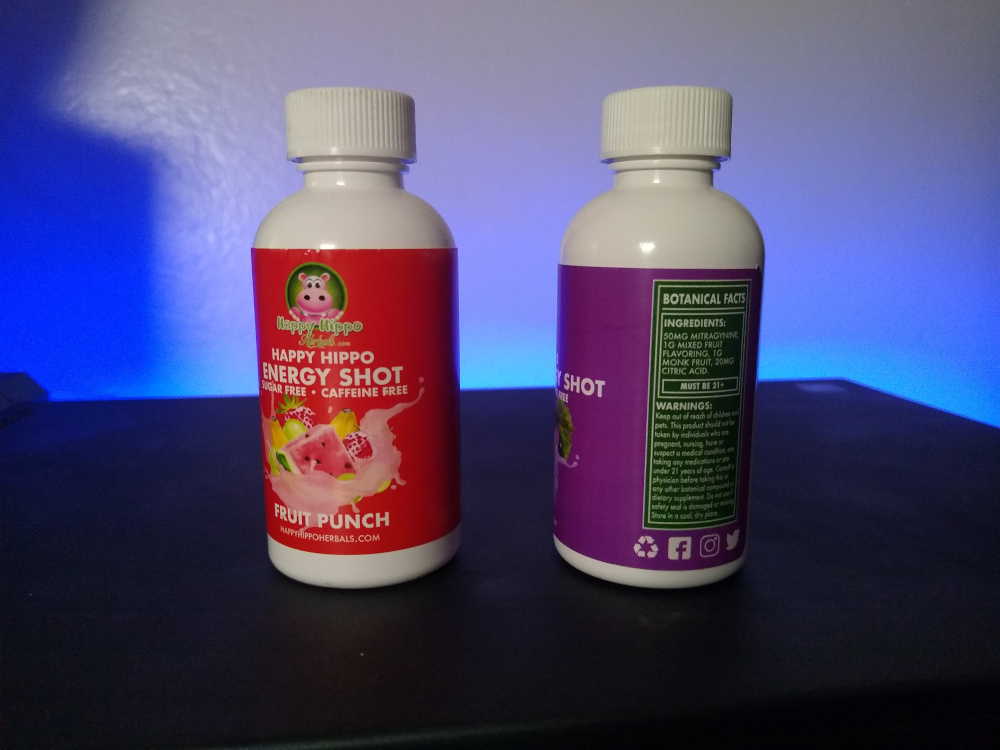 The product I found most interesting was Happy Hippos Kratom Energy Shots. I first though it was a little gimmicky but upon chugging one down I quickly realized the errors of my ways. They pack a powerful punch. They're about $7 bucks a pop so very pricey, but in my opinion good to have as a once a week treat. Think of them as 5 hour Kratom energy drinks.
Final Verdict and Coupon Code
Overall I can recommend Happy Hippo Herbals in good conscience. The only downside to the vendor is their limited payment options – currently only accepting Bitcoin and a few other off the beaten path methods. This isn't unique to HH, many Kratom vendors can only accept Bitcoin due to credit card processors not working with them. Shipping is fast (FedEx) and you receive a tracking number straight away. Customer service is also stellar. You can tell they are a reputable company doing everything they can to do good business, and that's something I can get behind.
Use Coupon Code FALLON15 to save 15% off your order!
Cheers.
Join up for exclusive giveaways!
Enter your email address to qualify for my monthly nootropic giveaways