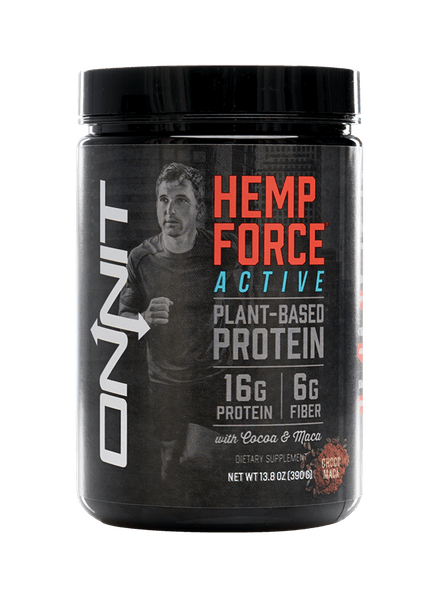 I'm not the most jacked guy but I enjoy lifting weights and putting on muscle. Part of putting on muscle and having energy post workouts is eating the right foods to fuel your body. Your muscles need protein to rebuild and your mind and body need to be replenished from the nutrients you expelled during your workout.
The thing is, it's HARD to get all these nutrients from food. I learned about Onnits Hemp Force Protein powder after cruising around their site one afternoon. I'm a huge fan of the Alpha Brain and Shroom Tech products and wanted to see what else they had to offer.
Here is my full break down and review of Onnits Hemp Force Protein.
What's inside?
It's crucial to examine the ingredients of anything you put in your body. Lucky for us, Onnit are big proponents of making products from whole natural foods.
Hemp Protein – The driving force behind this powerful powder is hemp protein. This is a plant based compound derived from the cannabis plant. Note that hemp protein contains zero psychoactive properties (you aren't going to get high.) It features a complete amino acid profile and contains a dense amount of protein and essential fatty acids. Hemp is a nutritionally dense food and a great alternative for vegans, vegetarians, or anybody who is lactose intolerant.
Maca extract – Maca is an interesting vegetable that's seen heavy use in ancient cultures. It grows on top of the tallest mountains in Peru and is heralded as a potent healing herb and powerful aphrodisiac. Maca gives you the energy to grind through your workouts and provides extra stamina in the sack (giggity.)
Cocoa – Not much to say about this one. It makes the powder taste better and provides a boost in mood. One thing to note about Onnit Hemp Force is it tastes better than any other protein powder I've tried, and that's including Optimum Nutrition's own chocolate blend.
Personal Review
It's the best tasting protein powder I've tried. It's a rich chocolate taste that actually tastes like real chocolate. Not too sweet and not to bitter. The 100% cocoa powder I believe truly makes this the best tasting shake around.
The Maca gives me a huge boost in libido. You may want to avoid this powder if your sex drive is already through the roof. However, if you're lacking in that area you cannot afford not to try Onnit Hemp Force.
I do enjoy that this is a completely whole foods and vegan product. Even though I am not vegan myself I like to mix things up. For me, cutting back on animal protein has shot my health and vitality through the roof. I think a little meat is good but not in the amounts the standard person is used to eating.
Whey, casein and other forms of dairy can also create inflammation and upset your digestive system. Plant based proteins are generally well tolerated across a diverse set of individuals.
Overall I enjoy Hemp Force and recommend it to anyone looking for a high quality protein powder.
Where to buy Hemp Force
You can purchase Hemp Force from the Onnit store